projects
Unity Sisters is partnering with Jambo! Radio to deliver confidence and public speaking skills to our members. The project has been running from January 21st to March 31st and includes training sessions with the staff of Jambo! Radio.
This project aims to engage unity sisters members in interviews and storytelling to share their experiences and the work that we do. Unity Sisters will share all content (interviews and videos) via social media to reach a wider audience.
Following a highly successful pilot project in collaboration with UpHub/Rags to Riches (Govanhill Baths Community Trust), we established a formal partnership with Rags to Riches to deliver weekly facilitated sessions on creating jewellery out of recycled plastic.
The 12 sessions will take place via Zoom on Wednesdays. All activities will be delivered by community artists and craftspeople working with Rags to Riches to disseminate information and techniques on reusing, recycling, and upcycling materials that would otherwise end up in landfill.
The artists will also act as mentors developing skills amongst the Sisters to cascade the knowledge and techniques to other participants, ensuring the project's sustainability after it finishes.
All members will receive £20 data vouchers to assist with data access fees.
No Radio Silence: Human Rights for New Scots
No Radio Silence is an educational resource produced by Unity Sisters and Govanhill Baths Community Trust as part of the 'Our Rights, Our Communities' project. This project looks into ways of developing peer-led advocacy amongst New Scots women and engaging the broader community towards creating solidarity and allyship to Human Rights causes.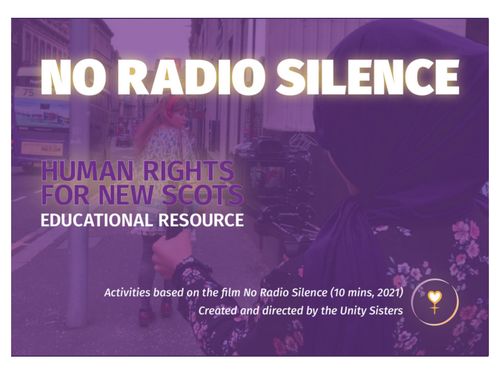 This educational resource initiates a group conversation around various topics, including the community response against the dawn raid on Kenmure Street on the 13th of May 2021.
Many of the topics within this resource can be matched with the Curriculum for Excellence.
There are hyperlinks throughout the resource for further information provided by reliable sources, including the Scottish Government.
With the support of Clare Harker, Head Teacher at St Albert's Primary School, Glasgow.
With support from Govanhill Baths Community Trust and under the mentorship of filmmaker Bircan Birol, the Unity Sisters created and directed this short film. This is part of the Sisters' process of reclaiming the narrative over what being a New Scot means to create understanding, connection and integration. Based on the film 'No Radio Silence', 10 mins, 2021.